平成29年度 PEAK/GPEAK 新入生歓迎式典 教養学部長式辞(平成29年9月22日)
PEAK & GPEAK Welcome Ceremony
2:00-3:00 PM, Friday, September 22, 2017
Lecture Hall, Basement Floor, 21 KOMCEE West, Komaba Campus
Educated Brave Optimism in Komaba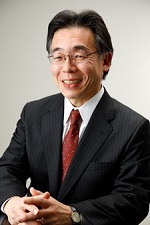 As the dean of the Graduate School of Arts and Sciences and the College of the Arts and Sciences of the University of Tokyo, I would like to welcome, with the greatest enthusiasm, each one of you who has just joined our Komaba community. From today onwards, Komaba will be your home.

Home is a place where its members share a dream of and a commitment to a brighter common future. By welcoming you to our community as your home, I mean to invite you to take part in our efforts to resolve issues which earlier generations have been hard pressed to address. It is my view that those challenging goals of global relevance include thinking through and figuring out ways to realize multicultural peaceful coexistence in a diverse society and sustainable development of human societies across the globe.
From this perspective, I would say that the year 2016 was one of global disappointment. The year 2017 has been no different so far. Some of the core tenets of the just-mentioned peaceful coexistence and sustainable development have become the focus of bitter political contention throughout the world. For instance, free and unrestricted movement of people was placed under increasing strain in the European Union, in reaction to the unprecedented influx of refugees in 2015, fleeing the catastrophic war zones in the Middle East, Syria in particular. This influx of refugees was widely believed to heighten the risk of terrorist attacks in major European cities. In addition, the historic effort to tackle global climate change in the form of the 2015 Paris accord was seriously frustrated when the president of the world's second-largest emitter of greenhouse gasses followed through on his campaign promise to withdraw his country's commitment to the multilateral agreement under the banner of "America First."
No doubt, this course of events has been deeply troubling. But pessimism and cynicism should not be our option. Instead, I would like you to stay positive and to be brave optimists in search of a way out.
This brave optimism should not be uninformed wishfulness but educated judgment. It is in this context that our PEAK/GPEAK programs come into the picture.
In October 2012, the University of Tokyo took a major step in our 140-year history when we established the Programs in English at Komaba, our first undergraduate degree program conducted in a language other than Japanese. In other words, those admitted students, to whom the University opened its heavy door, receive most or all of their education in a non-Japanese language.
This diverse and multilingual group of admitted students like you are united through your shared commitment to a brighter common future and associated concern about present problems of universal relevance, such as peaceful coexistence and sustainable development in the world. Those hopes about the future and concerns about the present are closely related to each other in that there is no vision of the future without revision of the present. To realize the brighter future, one must look back and reconsider what has brought about the present problems.
Our PEAK/GPEAK programs offer what you need to tackle these problems: first, an integrated understanding of the world's complex reality with full awareness of competing and complementing academic viewpoints, in other words, an interdisciplinary mindset; second, logically consistent reasoning and evidence-based analytical methods that equip you with real scientific persuasiveness; third, the multicultural unbiased imagination necessary to comprehend fully the many problems facing human societies across the globe; and finally, the global communication abilities that are indispensable when articulating your own original ideas about universal problems.
While PEAK/GPEAK are small programs that select only a small group of undergraduate and graduate students each year, for this very reason these programs are indeed some of our university's most important endeavors.
Atsushi Ishida
Dean of the Graduate School of Arts and Sciences
Dean of the College of Arts and Sciences
The University of Tokyo