About Mitaka International Hall of Residence
About Apply for a Room Selection Results FAQ
Location
Shinkawa 6-22-20, Mitaka City, Tokyo, Japan,
181-0004
TEL:0422-43-4961
Map

Planning a Visit:
You can visit the Residence Halls between 10:00-16:30 Monday to Friday (excluding public holidays). Visiting hours may change at any time so please ensure to call the Mitaka International Residence Hall Office in advance on the number above.

Overview:
Student body: 70% Japanese students (80% male, 20% female) and 30% international students.
Rooms: 605 western-style single rooms (13 m2), equipped with a shower, toilet, small kitchen (induction heating style), desk, chair, closet, bed (mattress and linen not provided), air conditioning unit.
Common facilities: tennis court, lounge area, multi-purpose hall, laundry room.

Room plan: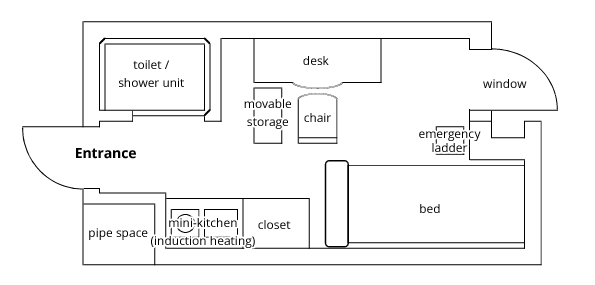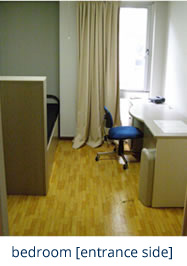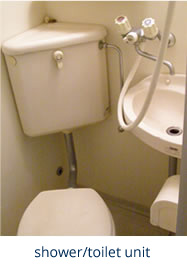 (No curtains)
Eligibility Criteria
 Students currently enrolled in the College of Arts and Sciences (international students can also apply).

 International students currently enrolled in the Senior Division or the Graduate School of Arts and Sciences.

 Japanese students enrolled in the Graduate School applying as a resident tutor.

Period of Residence
Limited to the duration of degree completion.

Accommodation charges
| Items | Fees |
| --- | --- |
| Rent | 4,700 yen |
| Utilities* | 2,550 yen |
| Shared Facilities and Waste Disposal | 500 yen |
| Maintenance** | 2,500 yen |
| Repairs | 1,000 yen |
| Residents'Association | 250 yen |
| Total Monthly Living Expendeture | 11,500 yen |
*
Any electricity or gas use in excess of this base fee will incur an additional cost, so the actual monthly fee will be than 11500 yen.
**
Maintenance is 60,000 yen total. This is divided by 24 months, the average stay of each student, and paid monthly. It is used to cover the cost of room maintenance after the student has moved out, to get the room ready for the next occupant. If the student knows their stay will be shorter than 2 years, the difference between their cumulative monthly reserve and 60,000 yen will be collected either on (1) entering the room if known at the start, or (2) leaving the room if having decided during the residence period.

Contact Us:
Section in charge: Student Welfare Section, Student Support Division, College of Arts and Sciences
MAIL: kousei-kakari@adm.c.u-tokyo.ac.jp
TEL: 03-5454-6077, 6078
About Apply for a Room Selection ResultsFAQ