Support Facilities for Student Activities
| Komaba Communications Plaza | Multicultural Exchange Facilities (Campus Plaza Building A/B) |
| Multi-purpose Hall | Hakuinsha Pavilion | Organ | Steinway Piano |
| Disability Services Office (DSO) Komaba Branch |

Komaba Communications Plaza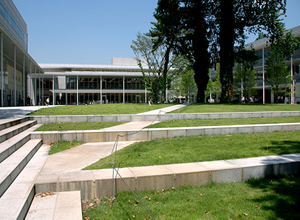 The Komaba Communications Plaza is a campus facility designed for regular classes, academic research, extra-curricular activities, and welfare support.

In the North Building, there is a co-op bookstore on the first floor. On the second and second floors, there is a multi-purpose hall and classrooms for sports, music and performing arts, which are used not only for classes and extracurricular activities, but also for the benefit of the local community, such as public lectures and Steinway piano concerts (hosted by the Piano Committee).

The South Building consists of a co-op cafeteria and a private lounge for faculty members. There is also a 'Media Gallery' for art and fine art exhibitions.

The Japanese-style House has six Japanese-style rooms that can be used for Japanese flower arrangement, tea ceremony, social gatherings, and training camps for clubs.

For details on how to use the Komaba Communication Plaza, please see here.
Multicultural Exchange Facilities (Campus Plaza Building A and B)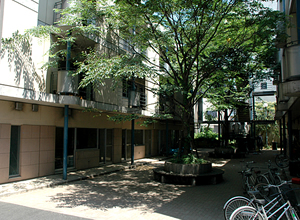 The Multicultural Exchange Facilities refers to two three-storey buildings known as Campus Plaza Building A and B, located opposite the co-op store on the eastern side of the Gingko tree avenue . It was established on July 6th 1998 as a focal point for various cultural and extra-curricular activities and interaction with international students.

Building A consists of a lobby, management office and student committee room, as well as facilities such as conference rooms and music practice rooms that can be used by various groups. For example, the music practice room on the third floor is equipped with sound-proofing and air-conditioning facilities to eliminate problems with noise, which had been a cause of complaint by neighbors from time to time. The conference room on the second floor can also be used by various groups for interactive activities. Currently, the rooms are mainly used for club meetings and practices, but it is increasingly attracting interest as a place for new endeavors, such as volunteer-led exchange sessions between regular students and international students. This building can therefore be said to be showing its potential in realising the "'multicultural exchange' vision of the Campus Plaza.

Building B contains eight rooms of about 38m2 on each floor. These rooms are generally intended for the use of extracurricular club activities, and are so designed such that several groups can use one room together.
Management decisions for the facilities in Building A and B are made by the 'Multicultural Exchange Facilities Council', which consists of both faculty members and students, while daily managerial tasks are carried out by the Student Building Management Committee. The opening hours of Building A and B are 9 AM to 9 PM every day except during the winter closing period (December 28th - January 7th).
Multi-Purpose Hall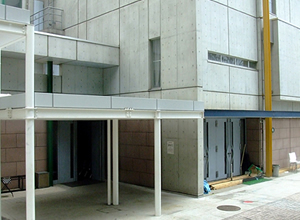 The Multi-Purpose Hall is a space designated for a variety of theatrical activities that contribute to the educational, research, or cultural activities on the campus. The opening performance of the Multi-Purpose Hall took place in July 1998. The hall has four walls of 16m each, and is designed in such a way that the stage and audience seats are set up every time there is a performance. The hall is equipped with many facilities such as large air-conditioners, a control room for lighting and rich lighting equipment that make professional performances possible. As well as performances hosted by the College for educational/research purposes a few times a year, the hall is also widely used by students at Komaba for cultural club activities, including drama performances that used to be held in the former Komaba Dormitory North Hall (the 'Komaba Small Theater'). The Hall is managed by the Cultural Activity Facilities Management Council, which consists of both faculty members and students and respects the students' autonomy.

Hakuinsha Pavilion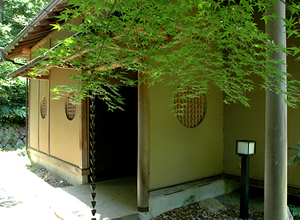 The Hakuinsha Pavilion is a facility built as a place to promote traditional Japanese culture in the Komaba Campus. The current building was completed in June 1996 to replace the former pavilion, which had become too old for use. The pavilion is a pure Japanese house with two Japanese-style rooms, each being ten tatami mats in size, surrounded by a L-shaped corridor, an entrance, a storeroom and a washroom. The room to the back is built with an alcove and a fireplace, so that it can be used for Japanese tea ceremony. The room to the front is a multi-purpose room, but based on the students' own ideas, can be converted into a stage performance practice room by removing the tatami mats. Wood used for the construction of the pavilion has been carefully selected from the Faculty of Agriculture's own forests.

Organ (Classroom number 900)
The organ in classroom number 900 (Lecture Theater) is a donation from Mr. Kiichirou Mori, and was installed in 1977. Although a small organ with a pedalboard, two manuals and a total of 12 stops, it is equipped with a tremulant and a coupler, allowing performances with rich tones.
The organ is managed by the College of Arts and Sciences Organ Committee, one of whose tasks is to plan and organize regular concerts. From the first concert in 1977 to commemorate the completion of the organ, there have been three to four concerts every year or a total of 122 concerts to date (as of July 2011). The concerts are not only open to faculty members and students but also to the wider public for free. With performances ranging from famous organists in and out of Japan to energetic and promising young performers, the concerts are of high quality.
Since 1998, the Committee has also been organizing organ classes one to two times a year for university faculty members and students. Learners are able to play and deepen their understanding of the organ under guidance tailored to their level. Schedules for regular concerts and classes can be found on the College of Arts and Sciences Newsletter, as well as on university announcements and on the Organ Committee website.

Steinway Piano
In autumn 2006, a Steinway concert grand piano (model D-274) was installed in the music classroom in the North Building of the Komaba Communication Plaza. In the room, there are also three Yamaha grand pianos and a Winter upright piano, which are used by students for club activities or for individual use. The Steinway is only used for special purposes, and its use and maintenance along with the other pianos is managed by the Piano Committee.
For example, the Piano Committee organizes concerts on the Steinway every spring and autumn, inviting famous leading pianists such as Ms. Michie Koyama to perform. Concerts by students selected by audition are also held every spring and autumn.


Disability Services Office (DSO) Komaba Branch (Building 8)
The Disability Services Office (DSO) is located in Room 111, Building 8 of the College and Graduate School of Arts and Sciences, which face the Gingko tree avenue on the Komaba I Campus. The Komaba Branch of the Disability Services Office, along with the Hongo Branch, has accumulated know-how on how to support the 30 students and faculty members with disabilities across the university in their education, research and work performance. Direct support is at the hand of individual departments, but the DSO provides all-round support, including co-ordinating support, training support workers, and running campaigns to promote awareness of disability support to all members of the university.
At the DSO, there are three permanent members of staff who are always available for advice, and acts as an interface between university members with disabilities and those without.
Opening Hours: 9:30 ~17:00 (weekdays)