Museums
| College Art Museum | College Science Museum |
The building which used to be the Daiichi-Koto-Gakko Library was refurbished and reopened in 2003 as the Komaba Museum, consisting of the College Art Museum and the College Science Museum. The two museums, since then, have been operated in close cooperation with each other. For details please visitthe homepage.
College Art Museum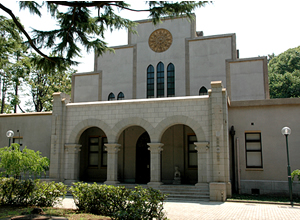 The Art Museum was established in 1951, as a part of the general education at the University of Tokyo College of Arts and Sciences.

Special thematic exhibitions are held on a regular basis in the Exhibition Room on the first floor of the museum to present, to the public, the wide range of research and educational activities that go on at the College and Graduate School of Arts and Sciences. During special exhibitions, the museum also hosts related events such as lectures and symposiums on the theme of the exhibition. At times when no special exhibitions are being held, the museum displays its permanent collection.

The Art Museum houses a variety of materials and items previously owned by the Dai-ichi Koto Gakko (First High School) and the Tokyo High School, or those newly acquired thereafter, including art works, handicrafts, and historical, archaeological and ethnographical artifacts. Most notably, the collection includes archaeological materials from ancient China, Korea and Japan, artifacts of the Andres and replicas of Leonardo da Vinci's paintings. Since the 1970s, the collection has expanded to include contemporary art. The museum also undertook the project of creating a Tokyo version of Marcel Duchamp's major art work 'The Bride Stripped Bare By Her Bachelors, Even' (,also known as 'The Large Glass'), which was completed in 1980, and is now on permanent display.
In addition, the museum keeps catalogues of exhibitions hosted by various art galleries and museums all around Japan, and opened a Reference Room in June 2007 to house this collection. All exhibition catalogues held by the museum are also available to read on OPAC (Online Public Access Catalogue).
College Science Museum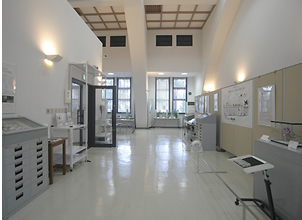 The College Science Museum was established in 1953 to support general education in the College of Arts and Sciences.

The collection includes extensive samples of minerals, fossils, insects, and plants, as well as experimental apparatus and surveying instruments, used during the earlier period of introducing Western science and engineering to Japan.These objects are used in classes.

The museum hosts a special exhibition every summer. During special exhibitions, the museum also hosts lectures, gallery talks, and hands-on learning classes for elementary, middle and high school students and the general public.