Education Support Facilities
| Information Education Building | First-year Activity Center | Komaba Active Learning Studio 21 |
| 21KOMCEE |
Information Education Building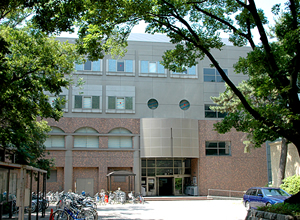 The Information Education Building is designed to support the ICT education of students, both for the compulsory Junior Division course in Information, as well as for any ICT-related teaching across all Specialized Division courses. It also has large-scale computer facilities, which are used by faculty members and graduate students for research and work.

There is a study room in the building, but the large and medium sized computer labs (Dai-enshuushitsu and Chu-enshuushitsu) are also open to students for study when they are not being used for classes. Students may use the terminals in the computer labs for ICT-related study, writing reports, or Internet services such as e-mail and web browsing.

The computer system in the building is managed by the Information Technology Center, and all students including graduate students can obtain an account. All first year students are automatically registered on to the system for use in the Information courses, and can apply to extend their account to the following year.
When using the system, please ensure to follow the rules of the Information Technology Center and to regularly pay attention to notices and announcements from the center.
First-year Activity Center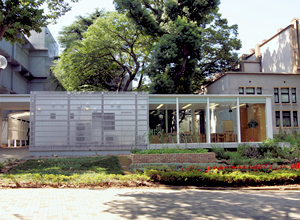 The First-year Activity Center opened in October 2008, as a focal point for the development of the first-year program for newly enrolled students in the Junior Division. The program supports first-year students in their transition into university life and study, and such programs are increasingly occupying an important role in university education in many countries. The contents of the program here are extensive, including study guidance, peer-advisor support, mental health education, lectures relating to the center's activities, and group English conversation sessions.
Komaba Active Learning Studio (KALS)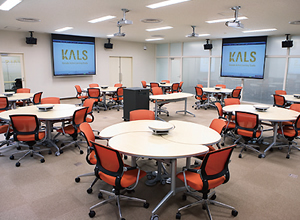 The Komaba Active Learning Studio (KALS) was established in Building 17 in May 2007, as a model classroom that puts the 'Ideal Liberal Arts Education' vision of the University of Tokyo into practice. The studio is designed as a classroom to support active learning - namely, the process of assimilating, analysing and assessing various inputs such as information or visual data, and then producing outputs in the form of writing or discussion. The biggest feature of the studio is in its classroom design and facilities, which aims to maximise active learning through the use of Information Communication Technology (ICT). The classroom consists of a 140m2 studio and a 70m2 waiting room, and is equipped with reorganizable tables, projectors on each of the four walls, and 40 tablets connected to wi-fi (wireless LAN), in order to support students with tasks such as conducting searches, viewing audio-visual materials, simulations, writing, creating mind maps etc. Through such a focus on ICT-driven active learning, organize information independently, find key questions and search for solutions, and in turn grow into individuals that can deal with various problems from a wide perspective. KALS is an educational project organised jointly by the College of Arts and Sciences, Center for Research and Development of Higher Education, and the Interfaculty Initiative in Information Studies, and is one manifestation of the liberal arts education model that the university presents to wider society.
21 Komaba Center for Educational Excellence (21 KOMCEE)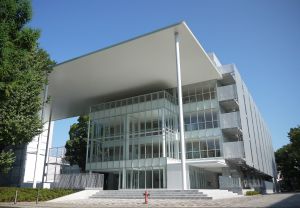 KOMCEE was built in May 2011 as a building optimised for a pleasant study environment. Covering a total area of 4500m2, the center consists of lecture halls, open spaces to encourage communication between students and staff, and nine studio classrooms suitable for active learning classes such as debates, presentations, collaborative learning or self-expression sessions. The distinctive hall is named after Mr. Minoru Mori, the main benefactor of the building, while the lighting design of the hall and the ground floor is by Ms. Akari Lisa Ishii. It is hoped that this building will be used not only for Junior Division teaching, but also as a hub for collaborative activities with other specialist departments and with wider society. Furthermore, the building is also part of the New Energy and Industrial Technology Development Organization (NEDO)'s 'Demonstration Project for Next-Generation Energy-Conservation Construction', and has systems for groundwater air-conditioning, radiant air-conditioning, solar power generation, and Artificial Intelligence energy management. It thus plays an important role in embodying and promoting the concept of the Zero Energy Building (ZEB), a collaborative research project between NEDO and the University of Tokyo Institute of Industrial Science.