Student Building & Campus Plaza
Student Building
Phone number: 03-5454-4343/4348
Established in 1963, the Student Building is a three-storey building with rooms for around 100 student clubs and organizations. The Student Building was renovated in 2009 for reinforcing work against earthquakes. The management of the Student Building is mainly under the autonomous control of students. On the first floor, there are facilities such as a photocopier, a high-speed printer and a paper guillotine, and are used widely by students to create leaflets to attract new club members in the spring, or for photocopying notes and study guides before exam periods. To find out more about using the building for club offices and meetings, please contact the office.

Common Facilities for Extra-curricular Activities (New Student Building)
This building was opened in April 1981, and has rooms for non-sporting student clubs, music practice rooms, meeting rooms, and Japanese-style rooms.

Campus Plaza
Phone number: 03-5454-6962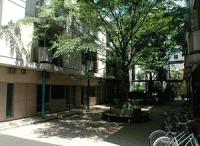 The Campus Plaza was opened in 1998 as a place for extra-curricular and club activities. Building A and Building B consist of rooms for student clubs,, music practice rooms and conference rooms, while Building C contains a multi-purpose hall that functions as an environment to encourage creative pursuits such as theater and music performances.