First-Year Activity Center
Section in charge
Student support section,
Student support division
Location
Administration Building,
Counter No. 8
Reception hours
Weekdays: 9:00~16:50
Phone number
03-5465-8249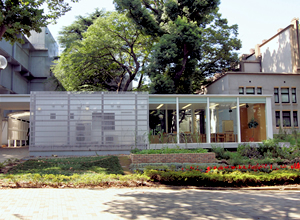 The First-year Activity Center was opened in October 2008 at Komaba Campus I, as a facilityto support the education of students mainly in the Junior Division of the College of Arts and Sciences. The center conveniently sits between the area within campus for classrooms and laboratories and the area for extra-curricular activities, and t is designed as a place for students to create a pleasant learning environment.

First-year education is mainly for newly matriculated students, and it is a comprehensive educational program that aims at enriching both the social and academic experiences of students. In recent years, such programs have been playing an important role in university education across many countries worldwide.

So far, this center has hosted a number of first-year activity events such as science cafes, psychology education programs, seminars on first-year activities, and faculty-student luncheons. There will be many more events in the future, so please feel free to participate in any programs that pique your interest. When the center is not in use for scheduled programs, it will be available for students to use freely, and students can seek advice from senior students who work as resident Peer Advisers. Please make the most of the Center to ease your adjustment to your new environment and to enrich your university life.

Related Link