About Mitaka International Hall of Residence
About Apply for a Room Selection Results FAQ
Location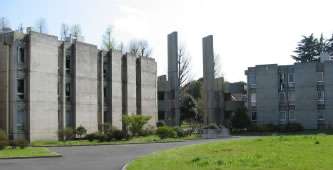 Shinkawa 6-22-20, Mitaka City, Tokyo, Japan,
181-0004
TEL:0422-43-4961
Map

Planning a Visit:
You can visit the Residence Halls between 10:00-16:30 Monday to Friday (excluding public holidays). Visiting hours may change at any time so please ensure to call the Mitaka International Residence Hall Office in advance on the number above.
Overview:
Student body: 70% Japanese students (80% male, 20% female) and 30% international students.
Rooms: 605 western-style single rooms (13 m2), equipped with a shower, toilet, small kitchen (induction heating style), desk, chair, closet, bed (mattress and linen not provided), air conditioning unit.
Common facilities: tennis court, lounge area, multi-purpose hall, laundry room.
Room plan: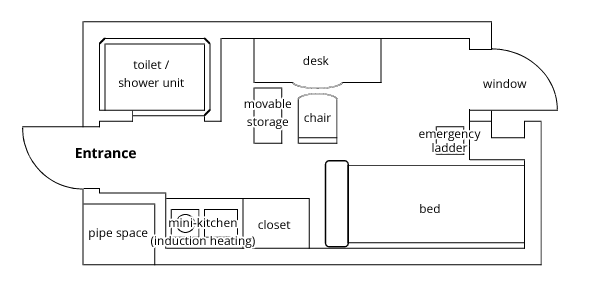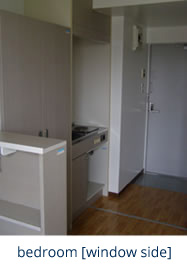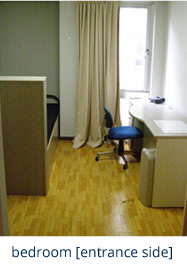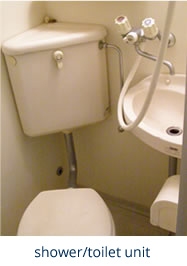 (No curtains)
Eligibility Criteria
 Students currently enrolled in the College of Arts and Sciences (international students can also apply).

 International students currently enrolled in the Senior Division or the Graduate School of Arts and Sciences.

 Students enrolled in the Graduate School applying as a resident tutor. Tutoring activities and permission to move into Mitaka International Hall of Residence are required for international students.
Period of Residence
Limited to the duration of degree completion.
Accommodation Charges

2021.4

~

These fees are subject to change for various reasons.
Items
Fees
Rent
4,700 yen
Utilities (Basic Rate) *
2,550 yen

Common Service Fee**

500 yen
Repair Fee

1,000 yen
Residents Communication Fee***
100 yen

Total Monthly Basic Expenditure

8,850 yen

Room Reparation Fee****

(To be collected after move-in)

60,000 yen
*
Metered charge for electricity and hot water is added and actual monthly expense should be more than 8,850 yen.
**
Expense generated inevitably from resident's daily life, including separation and disposal of waste.
***
The fee of intercultural events for Japanese and international students.
****
Room Reparation Fee is the cost for restoring room to the original conditions. It should be paid in a lump sum after move in.


Contact Us:

Student Welfare Team, Student Support Division, College of Arts and Sciences
MAIL: Student Welfare Team(教養学部等学生支援課厚生チーム ) kousei-team.c(at)gs.mail.u-tokyo.ac.jp
TEL: 03-5454-6077, 6078


For international students
Housing Office THE UNIVERSITY OF TOKYO (u-tokyo.ac.jp)
About Apply for a Room Selection ResultsFAQ